Bio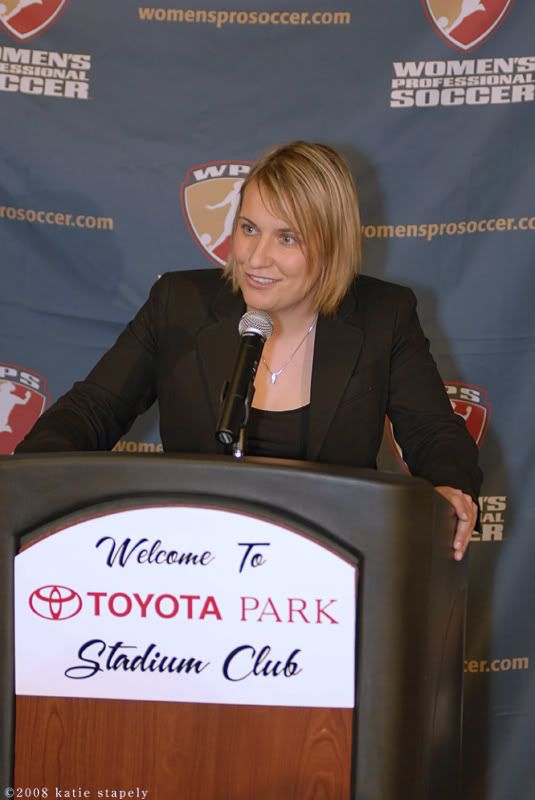 Emma Hayes is an English football (soccer) coach. She was the inaugural Head Coach and Director of Soccer Operations for the Chicago Red Stars of Women's Professional Soccer from May 2008 – May 2010. Emma then worked as a Coaching Consultant to the Washington Freedom from July – August 2010 and is now the Technical Director for the Western New York Flash.
Hayes guided the Chicago Red Stars to a 6-14-6 overall record while building a sustainable women's soccer franchise from the ground up. Her roster included the top internationals from from England, Sweden and Brazil, accomplished domestic players from the U.S. Women's National Team, and top talent from the most competitive American colleges including Stanford, Portland, University of North Carolina, Illinois and Notre Dame. Hayes' players earned WPS Player of the Week honors three times and she launched the Coach Hayes' Reserve Squad, a program of the Chicago Red Stars Charitable Foundation that provided the opportunity to attend a WPS game at Toyota Part to more than 1,000 children and young adults from Big Brothers and Big Sisters of Metropolitan Chicago.
Between 2006 and 2008, Hayes served as the First Team Assistant Coach and Academy Director at the Women's Premier League's top-ranked Arsenal Ladies Football Club in London, England. Hayes helped guide the Lady Gunners to an undefeated League record and won every competition England has to offer. Previously, she spent six years coaching in the United States, from the grass roots level all the way through the W-league and Division 1 college level.
Hayes also has significant broadcast experience, most notably as the lead analyst for Eurosport during the 2007 Women's World Cup in China delivering televised color commentary on the matches. She was a featured clinician at the National Soccer Coaches Association of America national convention in 2007 and 2008, and has extensive youth experience working as a senior staff member of the Region 1 Olympic Development Program since 2004.
As first team assistant at Arsenal Ladies, Hayes' responsibilities included planning, organizing, conducting and evaluating all aspects of professional women's soccer team including coaching games, running training sessions, recruiting players and scheduling.
During her tenure at Arsenal, Hayes helped guide the Lady Gunners to the following honors:
2007 UEFA Women's Cup Winners
2007 FA Women's Premiere League Cup Winners
2007-2008 London County FA Women's Cup Winners
2006-2007-2008 FA Women's Premier League Championsv
2006-2007-2008 FA Women's Cup Winners
2006 FA Women's Community Shield Winners
As the Academy Director, Hayes oversaw Arsenal's elite 16 to 19-year-old residential program. She directed and developed all soccer training and hired and supervised assistants. She also championed the Arsenal Ladies Cup, England's first and only all-girls international football tournament to be held in London.
Prior to joining Arsenal, Hayes served as Head Women's Soccer Coach at Iona College in New Rochelle, NY. There she was responsible for delivering all aspects of the NCAA Division 1 soccer program including team training, tactics, video analysis, nutrition, fitness, health and wellness. She hired and supervised assistants, recruited elite college-bound athletes from throughout the United States, maintained the team's budget, directed and organized youth tournaments, raised funds, managed media-relations, organized team travel and ordered equipment.
Hayes' honors at Iona included the 2004 Metro Atlantic Athletic Conference (MAAC) Coach of the Year and the 2004-2005 MAAC Conference Championships.
Hayes also served as the Head Coach of the W-League's Long Island Lady Riders from 2001-2003, where she identified, recruited, developed, managed and retained the best female soccer athletes in the region for the first and reserve teams, worked with college coaches across the country, developed individual player programs, dealt with sponsors, managed media relations and organized travel.
This London Camden Borough native was recognized for her efforts with the Lady Riders as the 2002 National Coach of the Year as the youngest female head coach in W-League history.
The bilingual (Spanish and English) Hayes is a 1999 graduate of the University of Liverpool with a BA in European Studies, Sociology and Spanish. She currently resides in London.